Dry Cutting Machine G-50E
More user-friendly, more powerful in grooving concrete and different floor material.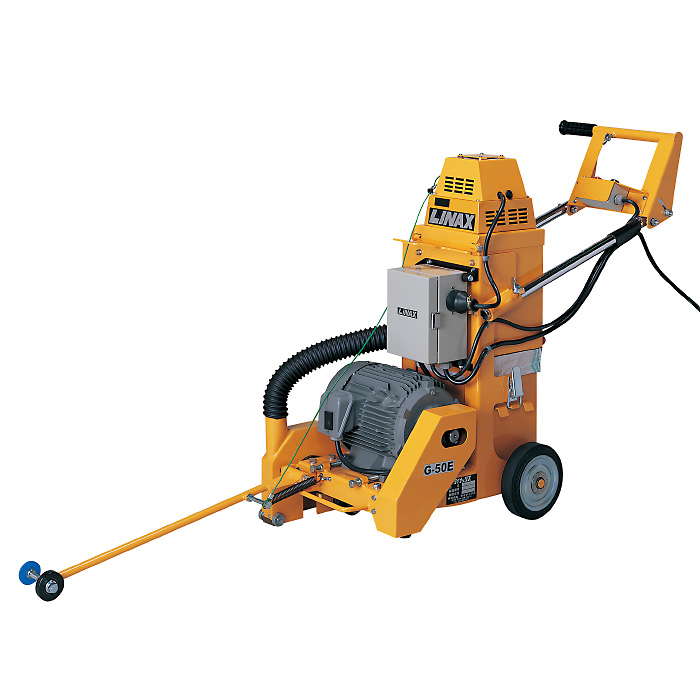 Specification
形式
G-50E
L x W x H (mm)
1100 x 430 x 890
Total Weight
89kg
Cutter Width
2.5 / 3.2 / 5 / 10 mm
Grooving Depth
0~35mm
Motor Output
3.7kW
Power
Three Phase 380V x 8A
Power Cord
20m (2mm2 x 4 core)
Dust Collector Specification:
Motor Output
1kW
Max Wind Power
3㎥/min
Max Static Pressure
20.7kPa
(2100mmAq)
Filter Area
2.0㎡
Tank Capacity
15L
Dust-Cleaning Method
Push-pull
Features
Strong 5HP motor (3.7kW) allows powerful cutting.
A very powerful performance as 3 times speedier than handy type cutter.
Fully dry cutting system. Can straightaway proceed to next step after cutting.

Is a dry cutting operation. Enable to apply floor materials straightaway after the cutting.
Dust collector on board type. No dust scattering.
Dust collector can collect dust at the same time while cutting to enable one-man operation.
Precise measurement with a millimeter unit of cutting depth adjustment by a simple lever method.
Can adjust the cutting depth easily by using the hand lever.
Construction Cases of G-50E
既設コンクリートの溝切り
Construction Video
Linax Video: G-50E Grooving
---
Cutters for G-50E
交換カッター
(写真をクリックすると詳細ページへ飛びます)