Compact Type Dust Collector L-1
Compact and easy single-handed carry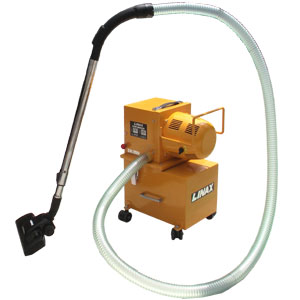 Specification
形式
L-1-100V
Dimensions (L x W x H)
386×319×540
Weight
14.5kg
Required circuit
Single-phase 100V × 10A
Single-phase 200V × 5A Single-phase 220V × 5A Single-phase 230V/240V × 5A
Motor Output
1000W
Max. Wind Power
3.0m³/min
Dust Tank Capacity
19L
Power Cord
10m (1.25mm² x 3-core)
Features
Compact and easy single-handed carry
Maneuverable in narrow places or sites where full of obstacles. It is lightweight and easy single-handed carry.
A powerful motor with 1kW output
It is installed with the strongest class motor of 1kw output. Designed with compact size and provide with high dust collecting performance.
Equipped with sand bag set, convenient for dust disposing.

A sand bag set can be installed inside the machine for easy dust disposing.
Potential anti-clog molded filter
The molded filter, an essential filter for dust-collect performance, is excellent in anti-clogging, and convenient for cleaning and changing process.