Removal of epoxy thin layer
Application:
Removes epoxy thin layer (thickness: 1mm).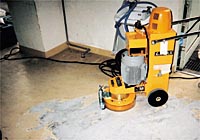 Floor Grinder K-30
Preparation Method:
By taking account the form of installed anchor bolt or uneven surface on concrete, select cutting or scarifying method to remove epoxy layer.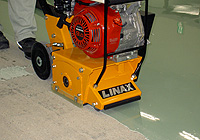 Floor Scarifier FC-20
Apply cutter with:
A.Tip Cutter (Dia Tip)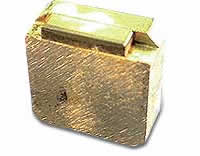 B.6P Cutter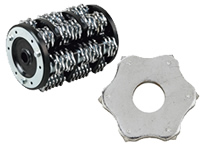 Applicable machine:
A. Floor Grinders: K-30 Series
B. Scarifiers: FC-20
Performances:
A. Floor Grinders: 30~40m²/hour; 4~5hrs/set
B. Scarifiers: 20~30m²/hour; 100~150hrs/set
*** The working performance or the cutter consumption may be carrying out differently according to the conditions of flooring materials, floor hardness, adhesiveness and etc at the job sites. ***
If the concrete surface is seriously uneven or anchor bolts are installed on concrete, it would be better to apply scarifying method instead of grinding, because the installed anchor bolt will damage the Tip Cutter (Dia Tip) easily while operating.
Please browse Scarifiers
F Series for more
details.